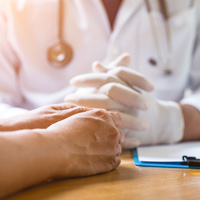 If you have a family history of substance abuse disorders (SUD), you may be at risk yourself. According to an Atlantic Health System counseling and addiction expert, when one parent has an SUD, each child in the family has a 50% chance of inheriting it if they drink or use recreational drugs. That number jumps to 90% when both parents have an addiction. Abstaining from alcohol and narcotics entirely is the only way to ensure you don't develop an SUD in the presence of the gene. Read more of the interview or learn about Atlantic Behavioral Health's chemical dependency services >
Depression Programs and Screenings
Education and prevention can keep you and your loved ones healthy. We invite you to take advantage of the programs, support groups and screenings available. Adults 65 and older who are looking to stay well with age may benefit from events labeled "New Vitality."

Mental Health Intensive Outpatient Program
Group, individual and family counseling, as well as medication management for those who need an intense, time-limited treatment to improve their emotional health. Participants attend three out of five days per week.
Mondays, Wednesdays and Thursdays, 10:30am to 2:00pm
25A Vreeland Road, Building 2, Suite 105, Florham Park, NJ
For more information and to access the program, please call 1-888-247-1400.
Depression Articles