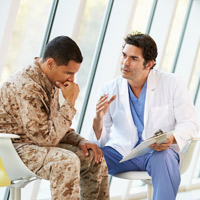 The sights and sounds of combat are powerful memories, ones that can impact your mental well-being long after you've returned from military duty. If you're a veteran who's struggling with depression, anxiety or post-traumatic stress disorder, Atlantic Behavioral Health's True North program can help. Our licensed clinicians have experience addressing the common challenges former servicemen and women face as they readjust to civilian life. Learn more about True North and program eligibility >
Depression Programs and Screenings
Education and prevention can keep you and your loved ones healthy. We invite you to take advantage of the programs, support groups and screenings available. Adults 65 and older who are looking to stay well with age may benefit from events labeled "New Vitality."

Walk & Talk: Stress through the Life Span
Walk with behavioral health professionals while having a conversation about how stress affects us throughout the different stages of life.
Friday, April 5; 8:30am
Rockaway Townsquare Mall, Food Court
301 Mount Hope Avenue, Rockaway, NJ
Presenters: Rainnier Centeno, PhD, LPC and Brooke Donald, PsyD
For more information and to register, call 1-800-247-9580.

Mental Health Intensive Outpatient Program
Group, individual and family counseling, as well as medication management for those who need an intense, time-limited treatment to improve their emotional health. Participants attend three out of five days per week.
Mondays through Fridays, 10:30am to 2:00pm
Atlantic Rehabilitation, 95 Mount Kemble Avenue, Morristown, NJ
For more information and to access the program, please call 1-888-247-1400.
Depression Articles