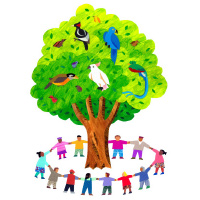 Community Health Day is a time when Morristown Medical Center joins with the faith-based community and other local organizations in a celebration of wellness and family fun. Now in its 24th year, the event will feature free health screenings, including blood pressure, cholesterol, glucose, HIV, oral cancer and more. We'll also have live music, raffle prizes, Zumba demonstrations and children's activities, among other entertainment. Community Health Day, which is funded by the Foundation for Morristown Medical Center, takes place on Saturday, September 7 from 9:00am to 1:00pm at the Headquarters Plaza Complex, located at 2 Speedwell Avenue in Morristown, NJ. If you would like to join a walkathon to the event, please arrive at 8:00am at Goryeb Children's Hospital (Franklin Street entrance).
Diabetes Programs and Screenings
Education and prevention can keep you and your loved ones healthy. We invite you to take advantage of the programs, support groups and screenings available. Adults 65 and older who are looking to stay well with age may benefit from events labeled "New Vitality."
Diabetes Self-Management Education Programs
The Adult Diabetes Education Center at Morristown Medical Center offers programs to help patients manage their blood sugar. Assessments are provided to determine if group or individual education sessions are appropriate. Participation requires a written prescription from a physician; please contact your insurance company to confirm your benefit eligibility. Programs include:

Type 2 Diabetes Self-Management Education

Understanding Type 1 Diabetes

Continuous Glucose Monitoring

Insulin Pump Evaluation and Options

Medical Nutrition Individual Counseling and Group Education

Gestational diabetes

Pre-diabetes
Individual, group, weekday and Saturday classes are available.
Adult Diabetes Education Center, Morristown Medical Center Outpatient Medicine
435 South Street, Suite 340, Morristown NJ
For more information and to schedule an appointment, please call 973-971-5524.

Chambers Center by PALM Health
Our state-of-the-art, personalized medicine clinic and wellness club offers a comprehensive range of medical, preventive care, mental health, fitness, nutrition, spa and therapeutic services designed to improve overall well-being. Learn more >
Diabetes Articles