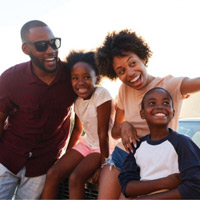 There's not always time for home-cooked meals, but occasionally eating out doesn't have to derail your diet. If you go to a buffet, take a walk around the entire table and choose the foods you want to eat before actually filling your plate. This will prevent overindulgence, but if you still end up biting off more than you can chew, don't feel obligated to eat all of it. Despite what you may have been told as a kid, clearing your plate won't solve world hunger. And when it comes time for dessert, choose only low-calorie, reduced-fat options like fresh fruit, sorbet, gelatin or angel food cake. See more tips for eating on-the-go >

Diabetes Programs and Screenings
Education and prevention can keep you and your loved ones healthy. We invite you to take advantage of the programs, support groups and screenings available.


Diabetes Self-Management Education Programs
The Diabetes and Endocrine Institute offers programs to help patients manage their blood sugar. Assessments are provided to determine if group or individual education sessions are appropriate. Participation requires a written prescription from a physician; please contact your insurance company to confirm your benefit eligibility. Programs include:

Type 2 Diabetes Self-Management Education

Understanding Type 1 Diabetes

Continuous Glucose Monitoring

Insulin Pump Evaluation and Options

Medical Nutrition Therapy

Gestational diabetes

Pre-diabetes
Individual, group, weekday and Saturday classes are available.
Diabetes and Endocrine Institute, Morristown Medical Center Outpatient Medicine
435 South Street, Suite 340, Morristown NJ
For more information and to schedule an appointment, please call 973-971-5524.

Type 1 and Insulin Pumpers Group
This support group is for people with Type 1 diabetes and their loved ones.
Thursday, October 4; 7:00 to 9:00pm
Morristown Medical Center, MoTown Café

Chambers Center for Well Being
The Chambers Center for Well Being can help you develop a personal plan for a healthier lifestyle. Through lectures, classes and therapeutic services, we'll show you how stress management, proper dietary balance and increased exercise can improve your overall well-being – mind, body and spirit. View a full list of classes, services and related fees > or call 973-971-6301.
Diabetes Articles