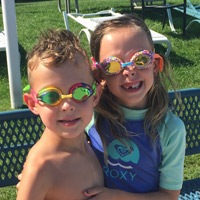 Babies born prematurely may be at risk for delays in their fine and gross motor skills, cognitive abilities and language. To help identify these concerns in earlier stages, Goryeb Children's Hospital offers a
NICU
Developmental Follow-Up Program designed for infants born sooner than 32 weeks or weighing less than 3 pounds, 4.9 ounces. Our team of professionals screens babies every three to six months until age 3 and refers parents to the appropriate specialists for treatment based on the results.
Read how this program helped a local family with premature twins >
Pregnancy Programs and Screenings
Education and prevention can keep you and your loved ones healthy. We invite you to take advantage of the programs, support groups and screenings available. Unless otherwise noted, all classes take place at Morristown Medical Center. For a schedule, fees and to register for the below Parent Education programs, please visit our website or call 973-971-5027.

New Moms Support Group
New mothers can gain support and helpful parenting education, while sharing the joys and challenges of living with a newborn. This group is co-led by a professional social worker and nurse educator. Babies are welcome.

Breathing and Relaxation Class
Learn breathing and relaxation techniques that you can use during labor and delivery for effective management of discomfort.

Childbirth Mini Classes: Your Baby's Birth
Topics include the childbirth process, signs and stages of labor, and when to go to the hospital. A tour of our maternity center and a question-and-answer session with a nurse educator are included.
Thursdays, 6:00 to 7:00pm
Morristown Medical Center, Auditorium A, 100 Madison Ave Morristown, NJ 07960
For a schedule and to register, please call 973-971-5027.

ABC's of Going Home with Your Baby
Topics include basic infant care, diapering, dressing, bathing, swaddling, holding, soothing, bottle feeding, when to call the baby's doctor and how to manage with pets at home. Safety issues will also be addressed, including sleeping, cribs, car seats, baby products and baby-proofing your home.

Prepared Childbirth: Instruction for Labor and Birth
Topics include the birth process, such as signs and symptoms of labor, stages of labor, when to go to the hospital and what to bring with you; pain management strategies, such as breathing and relaxation techniques, comfort measures, massage, positioning, hydrotherapy, medication options and epidural anesthesia; hospital procedures; cesarean section; and physical and emotional recovery after birth. A tour of our maternity center and childbirth films are included. This class is also available in Spanish.

Great Expectations: Prepared Childbirth and Infant Care for Parents Expecting Twins, Triplets or More
Topics include how to care for more than one baby at a time, the last few days of pregnancy, signs and symptoms of pre-term labor, and vaginal and cesarean deliveries. A tour of our maternity center and practical advice from moms of the Twins n' Triplets Mothers Club of Morris County is included.

Breastfeeding Your Baby Part 1 – Getting Started
Topics include breast milk production, skin-to-skin care, positioning and latching, how long and often to feed, and how to tell if the baby is getting enough milk. Partners are welcome. We also offer outpatient appointments for lactation services; call 973-971-5027 for more information.

Breastfeeding Your Baby Part 2 – Beyond the First Weeks
This class is for parents who have completed our "Breastfeeding Your Baby Part 1" class or who are interested in learning how to pump their own breast milk. Topics include pumping and storing breast milk, maintaining milk supply and returning to work while continuing to breastfeed. Partners are welcome. We also offer outpatient appointments for lactation services; call 973-971-5027 for more information.

Especially for Siblings
Topics include what babies can do and how to safely hold them, ways older siblings can help their parents and tips for adults on easing the transition period for the big brother or sister. A short video and a tour of the maternity center are included. This program is recommended for parents with children ages 3 to 7.

Pre-Natal/Postpartum Aqua-Aerobics
Topics include gentle movement exercises, water weights and open discussions about pregnancy, birth and parenting.
Atlantic Rehabilitation, Morristown, NJ
For a schedule and to register, please call 973-971-5027.

Maternity Center Tours
Expecting mothers are welcome to take a tour of Morristown Medical Center's Maternity Center. Moms can bring one guest who is 18 years of age or older, in addition to any siblings of the baby. Registration is required for both moms and guests. There is a security check-in on the day of the tour, and a photo ID must be shown. Please note that our maternity center tours are included in some of our other parent education classes.
Morristown Medical Center 100 Madison Ave. Morristown, NJ
For more information and to register, click here or call 1-800-247-9580.

Chambers Center for Well Being
The Chambers Center for Well Being can help you develop a personal plan for a healthier lifestyle. Through lectures, classes and therapeutic services, we'll show you how stress management, proper dietary balance and increased exercise can improve your overall well-being – mind, body and spirit. View a full list of classes, services and related fees > or call 973-971-6301.
Pregnancy Articles