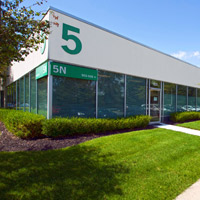 No, you're not dreaming – Atlantic Health Sleep Centers has opened a new location in Livingston. Services previously provided at Morristown Medical Center and Overlook Medical Center, including in-lab and home sleep studies, will be available at this site. Join us for an open house where you can meet our board-certified sleep physicians and technologists and learn how quality sleep is essential to your health. It will be held on Wednesday, March 6 from 1:00 to 6:00pm at 5 Regent Street, Building 5N, Suite 512, Livingston, NJ. Learn more about our program or take a sleep assessment test >
Sleep Disorders Programs and Screenings
Education and prevention can keep you and your loved ones healthy. We invite you to take advantage of the programs, support groups and screenings available. Adults 65 and older who are looking to stay well with age may benefit from events labeled "New Vitality."

Chambers Center for Well Being
The Chambers Center for Well Being can help you develop a personal plan for a healthier lifestyle. Through lectures, classes and therapeutic services, we'll show you how stress management, proper dietary balance and increased exercise can improve your overall well-being – mind, body and spirit. View a full list of classes, services and related fees or call 973-971-6301.
Sleep Disorders Articles