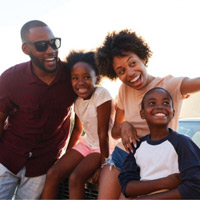 There's not always time for home-cooked meals, but occasionally eating out doesn't have to derail your diet. If you go to a buffet, take a walk around the entire table and choose the foods you want to eat before actually filling your plate. This will prevent overindulgence, but if you still end up biting off more than you can chew, don't feel obligated to eat all of it. Despite what you may have been told as a kid, clearing your plate won't solve world hunger. And when it comes time for dessert, choose only low-calorie, reduced-fat options like fresh fruit, sorbet, gelatin or angel food cake. See more tips for eating on-the-go >
Weight Management Programs and Screenings
Education and prevention can keep you and your loved ones healthy. We invite you to take advantage of the programs, support groups and screenings available.

Alliance Center for Weight Management
This free orientation will cover the various weight loss programs offered at our center.
Tuesday, September 4, 11 and 25; 6:30 to 7:30pm
Atlantic Rehabilitation, Conference Room 563, 95 Mount Kemble Avenue, Morristown, NJ
Presenter: Kim Gately, RD
For more information and to register, please call 973-971-4555.

Overeaters Anonymous
This group meets weekly to offer physical, emotional and spiritual recovery for those who suffer from compulsive eating.
Mondays, 7:00 to 8:00pm
Morristown Medical Center Outpatient Medicine
435 South Street, Third Floor Conference Room, Morristown, NJ
For more information, please call 973-960-1564.

Atlantic Health Weight & Wellness Center Classes and Support Groups
The following are held at 435 South Street, Suite 330, Morristown NJ. To register, please call 1-800-247-9580, unless otherwise noted.
Bariatric Surgery Support Group
Share strategies that have worked for you and learn from others who have had weight loss surgery.
Third Tuesday of every month, 6:00 to 7:00pm
Lifestyle Change Program
We all know that a healthy lifestyle will help you feel and look your best. In this 12-week program, you'll learn how to reach and maintain all of your fitness, weight and wellness goals using supervised exercises, stress management and the nutrition plan of renowned physician Joel Fuhrman, MD.
Fee: $775 ($400 deposit required)
Mondays and Wednesdays, starting September 19
Program times: 8:00 to 10:00am, 9:00 to 11:00am, 10:00am to Noon, 11:00am to 1:00pm, 4:00 to 6:00pm, 5:00 to 7:00pm and 6:00 to 8:00pm
Chambers Center for Well Being, 435 South Street, Morristown, NJ
For more information and a schedule, please call 973-971-4890.

Chambers Center for Well Being
The Chambers Center for Well Being can help you develop a personal plan for a healthier lifestyle. Through lectures, classes and therapeutic services, we'll show you how stress management, proper dietary balance and increased exercise can improve your overall well-being – mind, body and spirit. View a full list of classes, services and related fees > or call 973-971-6301.
Weight Management Articles