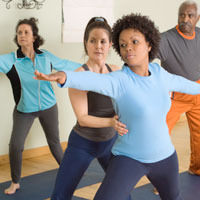 If cancer has got you feeling less than your best, consider signing up for a Qi Gong class. This ancient Chinese practice uses low impact exercise and breathing techniques to help strengthen the body's vital energy. Our group meets on Thursdays from 1:00 to 2:00pm in Carol G. Simon Cancer Center's Mind Body Spirit Sanctuary. Registration is not required.


Breast Cancer Programs and Screenings
Education and prevention can keep you and your loved ones healthy. We invite you to take advantage of the following programs, support groups and screenings, which are available to patients and families of the Carol G. Simon Cancer Center at Morristown Medical Center. Unless otherwise noted, to register for any of these programs, please call 1-973-682-2146 Monday through Friday, 8:00am to 4:00pm; all programs are free unless a fee is indicated.
Click here to view calendars with a full list of Carol G. Simon Cancer Center programs.
National Cancer Survivors Day

Actress and musician Suzzanne Douglas will share her cancer survival story through spoken word and musical performance with her jazz trio. An ice cream social is included.
Sunday, June 10; 3:00pm
Malcolm Forbes Amphitheater, 100 Madison Avenue, Morristown, NJ
For more information and to RSVP, please call 1-800-247-9580.
Brown Bag Lunch: Dietary Supplements
Bring your lunch or just a bottle of water and join us for lively discussion on nutrition topics that are relevant to you as you go through cancer treatment or embark on your recovery. Registration is not required.

"Colorful Summer Fruits and Vegetables"




Monday, June 4; Noon to 1:00pm
Carol G. Simon Cancer Center at Morristown Medical Center, 3rd Floor Conference Room
Post-Breast Surgery Rehabilitation Program
A physical therapist and social worker provide physical, emotional and educational support.
Eight-week program, 6:00 to 8:00pm
Atlantic Rehabilitation, 95 Mount Kemble Avenue, Morristown, NJ
For more information and a schedule, please call 973-971-5169.

Qi Gong
This traditional Chinese practice, which uses low impact exercise and breathing techniques, may help strengthen the body's vital energy. This class is open to all cancer patients and their healing team; registration is not required.
Thursdays, 1:00 to 2:00pm
Carol G. Simon Cancer Center, Mind Body Spirit Sanctuary

Treatment Tips and Tools Support Group
Cancer patients currently in active treatment and their caregivers can learn more about managing the treatment side effects, making the most of doctor visits, employment rights and financial resources.
Third Tuesday of every month, 5:30 to 7:00pm
Carol G. Simon Cancer Center, Mind Body Spirit Sanctuary
For more information, please call 973-971-5169.

Living with Advanced Cancer Support Group
Open to patients living with advanced stage cancer and their caregivers.
First Tuesday of the month, 1:30 to 3:00pm
Carol G. Simon Cancer Center, Mind Body Spirit Sanctuary
For more information, please call 973-971-7971.

Moving Beyond
Women who are undergoing cancer treatment can partake in group exercises. Medical clearance is required.
Fee: $50 for eight weeks
Mondays and Thursdays, 6:00 to 6:45pm
Atlantic Rehabilitation, 95 Mount Kemble Avenue, Morristown, NJ
For more information and to register, please call 973-971-4674.

Moving Beyond II
This exercise program is for women cancer survivors who have either completed physical therapy or our Moving Beyond class.
Fee: $60 for eight weeks
Tuesdays and Thursdays, 6:00 to 7:00pm
Atlantic Rehabilitation, 2nd Floor, 95 Mount Kemble Avenue, Morristown, NJ
For more information and to register, please call 973-971-4674.

Post-Treatment Support Group
Cancer survivors who have completed treatment can connect with other survivors and learn about the unique challenges and concerns facing them as they move forward with their lives.
First Tuesday of every month, 5:30 to 7:00pm
Carol G. Simon Cancer Center, Mind Body Spirit Sanctuary
For more information, please call 973-971-6299.

Breast Cancer Pre-Surgery Class
A nurse, social worker and physical therapist will explain how to prepare for breast surgery from both a physical and emotional standpoint.
Second and fourth Monday of every month, 3:00 to 4:30pm -and-
Third Tuesday of every month, 5:00 to 6:30pm
Carol G. Simon Cancer Center, Third Floor Conference Room
For more information and to register, please call 973-971-6175.

Learn Therapeutic Touch
Learn how to balance another person's energy with therapeutic touch. This technique stimulates deep relaxation, manages pain and symptoms, and enhances the body's healing ability. Registration is required.
Carol G. Simon Cancer Center, Mind Body Spirit Sanctuary
For a schedule and to register, please call 973-971-4063.

Healing Through Drumming
Decrease stress and release tension in a creative way by coming to a group drumming circle. Experience is not necessary, and drums will be provided. This program is only open to cancer patients and their caregivers.
Fourth Tuesday of every month, 7:00 to 8:30pm
Carol G. Simon Cancer Center, Radiation Oncology Waiting Room
Presenter: Leah Oswanski, MA, MT-BC
For more information and to register, please call 973-971-5919.

Somatron Sessions
Appointments are available Monday through Friday for Somatron, a vibro-acoustic musical massage designed to decrease anxiety, muscle tension, pain and nausea.
Carol G. Simon Cancer Center, Music Therapy Office
For more information and to schedule an appointment, please call 973-971-5919.

Healing Touch
Patients currently receiving treatment at Carol G. Simon Cancer Center can experience this hands-on, energy balancing technique.
Every Thursday, 6:30 to 8:15pm*
Carol G. Simon Cancer Center, Mind Body Spirit Sanctuary
To register, please visit our Patient and Family Information Center.
*20-minute walk-in sessions available every Wednesday from 9:30 to 11:45am; registration not required

Jin Shin Jyutsu Self Help Class
Learn tools and techniques to help support your body's own natural ability to heal.
Carol G. Simon Cancer Center, Mind Body Spirit Sanctuary
Presenter: Jean Marie Rosone
To register, please call 973-971-6514.

Reiki Sessions for Cancer Patients
This ancient art of hands-on healing helps the patient feel relaxed and renewed. Open to Carol G. Simon Cancer Center patients and their caregivers only; to schedule an appointment, please visit the resource room to sign up.
Carol G. Simon Cancer Center, Mind Body Spirit Sanctuary
For more information, please call 973-971-6514.

Free One Hour Jin Shin Jyutsu Session for Cancer Patients
This ancient eastern practice helps energize the mind and spirit. Open to Carol G. Simon Cancer Center patients and their caregivers only; to schedule an appointment, please visit the resource room to sign up.
Carol G. Simon Cancer Center, Mind Body Spirit Sanctuary
For more information, please call 973-971-6514.

Gentle Yoga for Cancer Patients
A combination of stretching, breathing and meditation help create a union of mind, body and spirit. Registration is not required.
Wednesdays, Noon to 1:00pm
Carol G. Simon Cancer Center, Mind Body Spirit Sanctuary
Breast Cancer Articles