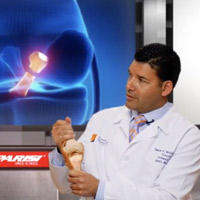 Don't let a twisted ankle or pulled hamstring derail your 2018 fitness goals. Atlantic Sports Health, in partnership with the Parisi Speed School, recently launched a series of videos that provide in-depth explanations of injuries common to athletes and how to prevent them. Each episode features one of our sports medicine experts discussing a different topic, such as anterior cruciate ligament (ACL) tears, concussions, ankle injuries and more. Watch now >

Exercise/Fitness Programs and Screenings
Education and prevention can keep you and your loved ones healthy. We invite you to take advantage of the programs, support groups and screenings available. Unless otherwise noted, to register for any of these programs call 1-800-247-9580 Monday through Thursday between 8:30am to 8:00pm and Friday between 8:30am and 4:30pm, or sign-up online at Atlantic Health System's classes and events registration; all programs are free unless a fee is indicated.

Line Dancing
Dance your way to increased stamina, flexibility, balance and fitness with this fun, four-session class. Registration is required.
Fridays, February 23, and March 2, 9, and 16; 3:00 to 4:00pm
Morristown Medical Center Health Pavilion
333 Mount Hope Avenue, 3rd Floor Community Room, Rockaway, NJ
For more information and to register, please call 1-800-247-9580.

Personalized Exercise Guidance
Atlantic Health Weight & Wellness Center offers free, 15-minute introductory consultations with an exercise physiologist, who can prescribe a fitness program that may help you safely control your weight and improve your health.
435 South Street, Suite 330, Morristown NJ
For more information and to schedule an appointment, please call 973-971-7166.

Amputee Walking School
This education and training program can help persons with lower extremity prosthetics improve their mobility.
To register, please call 1-800-247-9580.

Pre-Natal/Postpartum Aqua-Aerobics
Topics include gentle movement exercises, water weights and open discussions about pregnancy, birth and parenting.
Atlantic Rehabilitation, Morristown, NJ
For a schedule and to register, please call 973-971-5027.

Chambers Center for Well Being
The Chambers Center for Well Being can help you develop a personal plan for a healthier lifestyle. Through lectures, classes and therapeutic services, we'll show you how stress management, proper dietary balance and increased exercise can improve your overall well-being – mind, body and spirit. View a full list of classes, services and related fees or call 973-971-6301.
Exercise/Fitness Articles