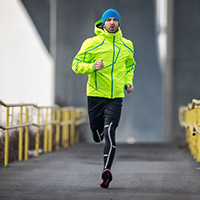 If you're going to be exercising outdoors this winter, pay particular attention to your hands and feet, which may be vulnerable to colder temperatures. To prevent frost bite, consider buying a pair of athletic shoes a half size to a size bigger, so you can wear heavy wool or thermal socks. You may also want to layer up on the gloves. Purchase a thinner pair made of moisture-wicking technology, like polypropylene, and wear these inside of thicker gloves or mittens, which you can remove if you start to sweat. For additional assistance with a workout regimen or injury prevention, consult the experts at Atlantic Sports Health >

Exercise/Fitness Programs and Screenings
Education and prevention can keep you and your loved ones healthy. We invite you to take advantage of the programs, support groups and screenings available. Unless otherwise noted, to register for any of these programs call 1-800-247-9580 Monday through Thursday between 8:30am to 8:00pm and Friday between 8:30am and 4:30pm, or sign-up online at Atlantic Health System's classes and events registration; all programs are free unless a fee is indicated.

Gentle Yoga
Learn the breathing and stretching techniques of Yoga and discover how it can improve flexibility and balance and promote relaxation. Exercises can be modified for chair or mat. Mats and blocks are available on a first come, first serve basis.
Fees: $50 for 10 weeks; $6 drop-in
(Discounted rates for Morris Mews residents: $30 for 10 weeks; $4 drop-in)
Wednesdays through December 13; 10:30 to 11:30am
Morris Mews, 99 Ketch Road, Morristown, NJ
For more information and to register, please call 1-800-247-9580.

Personalized Exercise Guidance
Atlantic Health Weight & Wellness Center offers free, 15-minute introductory consultations with an exercise physiologist, who can prescribe a fitness program that may help you safely control your weight and improve your health.
435 South Street, Suite 330, Morristown NJ
For more information and to schedule an appointment, please call 973-971-7166.

Amputee Walking School
This education and training program can help persons with lower extremity prosthetics improve their mobility.
To register, please call 1-800-247-9580.

Pre-Natal/Postpartum Aqua-Aerobics
Topics include gentle movement exercises, water weights and open discussions about pregnancy, birth and parenting.
Atlantic Rehabilitation, Morristown, NJ
For a schedule and to register, please call 973-971-5027.

Chambers Center for Well Being
The Chambers Center for Well Being can help you develop a personal plan for a healthier lifestyle. Through lectures, classes and therapeutic services, we'll show you how stress management, proper dietary balance and increased exercise can improve your overall well-being – mind, body and spirit. View a full list of classes, services and related fees or call 973-971-6301.
Exercise/Fitness Articles