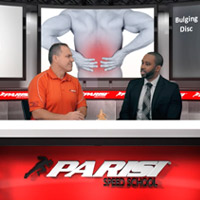 Whether you're doing heavy squats in the gym or just going about your daily routine, chances are you're going to experience back pain at some point in your life. This is most commonly the result of a bulging or herniated disc and although symptoms worsen with age, its progression can be slowed or even prevented. Sports medicine experts at Atlantic Sports Health recommend daily stretching and low-impact exercises, such as yoga or Pilates, to strengthen the lumbar region of the spine. Watch a video to learn more >




Orthopedic Programs and Screenings
Education and prevention can keep you and your loved ones healthy. We invite you to take advantage of the programs, support groups and screenings available. Adults 65 and older who are looking to stay well with age may benefit from events labeled "New Vitality."

New Vitality: Good Bones
Celebrate Osteoporosis Awareness Month this May by learning how you can improve your bone health.
Tuesday, May 14; 1:00 to 2:00pm
Morristown Medical Center Health Pavilion
333 Mount Hope Avenue, 3rd Floor Community Room, Rockaway, NJ
For information and to register, call 1-844-472-8499.

Amputee Walking School
This education and training program can help persons with lower extremity prosthetics improve their mobility. Breakfast will be served.
View all dates and locations >

Chambers Center for Well Being
The Chambers Center for Well Being can help you develop a personal plan for a healthier lifestyle. Through lectures, classes and therapeutic services, we'll show you how stress management, proper dietary balance and increased exercise can improve your overall well-being – mind, body and spirit. View a full list of classes, services and related fees > or call 973-971-6301.
Orthopedic Articles